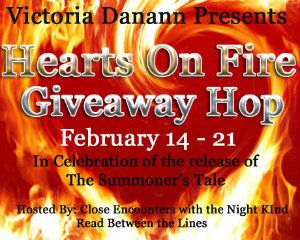 It's Valentine's Day!!
Welcome to the Hearts On Fire Giveaway Hop. There are lots of great prizes in store for you - including an ebook copy of my latest release, One Night Stand - which I will be giving away to one lucky hopper.
What fires you up about Valentine's Day? Is it the thought of your man bringing you flowers or chocolate? My husband doesn't bring me flowers or chocolates on Valentine's Day, as a rule. He does it throughout the year...when he thinks I'll least expect it. I get "Happy St. Patrick's Day" flowers and stout (I am Irish, after all) or "It's President's Day" candy. Don't judge. It's just what we do.
Our tradition for Valentine's Day is lobster. Weird right? It's not what you'd expect for the holiday of love! My hubs doesn't even eat lobster, but he knows it's my favorite food. Therefore, every Valentine's Day, he takes me for lobster. One year, he even prepared it at home...but we won't talk about that today.
So, now that it's Valentine's Day, I'll be looking forward to a lobster dinner, but there is more to be excited about today. And I'm not talking about sex. For once. I'm talking about the release of Victoria Danann's new book The Summoner's Tale! Check it out, along with the rest of the series! Then, we'll talk PRIZES!!
This is the third installment in a serial saga intended to be read in order.
DESCRIPTION:
A secret society, a witch, a psychic, vampires, modern day knights, heroes, elves, fae, assassins from another dimension, and fairytales come together where emotions intersect. Two souls, joined by a mystical bond, separated by distance, must simultaneously struggle through pain and darkness in an ultimate confrontation with character and an ultimate struggle for life proving that true love waits patiently through lifetimes and finds courage to survive. Even in the strangest places. Even when you're least expecting it. Even when you're far, far from home.
Erotic quotient: A little steam. No menage. No BDSM.
IMPORTANT: Black Swan Books 2 and 3 are available on Amazon.com exclusively as single titles. H
owever,
The Order of the Black Swan COLLECTED TALES, Books 1-3
will also be released on or around Feb. 14th in e-book everywhere.
This is the story as it was intended to be read - without interruption.
ISBN:
978-1-933320-70-0 All three books for $6.99.
Book One - My Familiar Stranger: Romancing the Vampire Hunters (nominated for Reviewers Choice Best Paranormal Romance of 2012)
Book Two - The Witch's Dream: A Love Letter to Paranormal Romance
Book Three
-
A Summoner's Tale: The Vampire's Confessor
Book Four
-
Moo
nlight: Big Bad Wolf
To release late Spring
For more information:
For the past fourteen years, Victoria has illustrated and authored Seasons of the Witch calendars and planners and written several non-fiction books on magickal arts. She lives in a town north of Houston known as The Woodlands even though the idea of the witch in the woods may be a
cliché
.
She owns 7th House Publishing and contributes to its enterprises. In addition to art and writing, she plays Classic Rock music (keys, rhythm guitar, vocals) and manages one of Houston's premier party bands. Married. Four children.
*********************
Now, about those prizes! There are so many, I don't know where to start! The grand prize list includes the following items:
1. Two Kindle Paperwhites
2. Three sets of Black Swan: Books 1-3 paperbacks signed by Victoria Danann (1 and 2 being US only)
3. Twenty sets of Black Swan: Books 1-3 e-books
4. $60 choice giftcard
Here is the Rafflecopter for the Grand Prize!
a Rafflecopter giveaway
Here on my blog, I'm giving away an eBook copy of my latest release, One Night Stand! Be sure to fill out the rafflecopter to win, then get to hopping! Thanks for playing with us and I wish everyone a very sexy Valentine's Day!
a Rafflecopter giveaway